Please excuse our appearance as we are in the process of updating our site.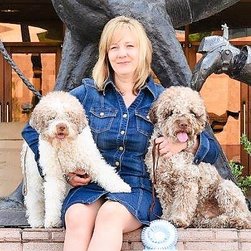 Proud owner and Breeder of 2018's NUMBER ONE breed ranked LAGOTTO ROMAGNOLO in the UNITED STATES! Winner of the 2018 National Specialty under Judge Alessandro Zeppi, from Italy. And Westminter 2019 Breed Winner!

BISS GCHS Dolce Vita Taleggio - Jacques
​
About Us
We are Sandy and Mike Mignogna and we live in Bucks County Pennsylvania on a small "gentleman's" farm, called Dolce Vita Farm, established in 1997. Along with our Lagotti we also have horses, alpacas, a Scottish Highland steer, fancy chickens, a rescue goat and a rescue llama. I am a graduate of Penn State University, but left the corporate world to be a stay-at-home caretaker. For me, living amongst the animals we have here on our farm could not be called anything other than La Dolce Vita - "The Sweet Life"!

I became interested in the Lagotto back in 1997 and made a trip to Italy in 2002 where I met with Luciano Bernabei and my love for the breed was confirmed! I have been involved with dogs, beyond owning "just" pets, since 1992. It was then that I acquired my first Dogo Canario and my love for competing with my dogs and breeding began. Then in 1997 I acquired my next breed, the Thai Ridgeback Dog. These two breeds have given me invaluable experience and a lifelong passion!

I enjoy lots of different activities with my Lagotti, from non-competitive agility to obedience, but I have found my passion to be with scent work. I am currently working on titling my dogs with the NACSW, and will expand to teaching scent work in the near future. I am also active in AKC's conformation, attending many shows along the east coast. Outside of my Lagotto activities, I also enjoy horseback riding, in which I used to compete in for a short time, but now mainly trail ride.

I am always involved with at least one project if not many at any given time involving the Lagotto. I served on the board for the Lagotto Romagnolo Club of America for many years. I was the President in 2015-2016, I am a Judge's Education Mentor, I was the Breed Education Chair, served on the Judge's Education Committee and also on the marketing committee . I am the Founding President and past Treasurer for the Lagotto Romagnolo Foundation, a non-profit formed solely to protect, research and educate about the health of the breed. I have organized the last four Northeast Radunos and my hope is to continue to have these annually as it is a great way to have Lagotti owners, their dogs, and prospective owners gather for a day full of fun and activities. In May of 2013, along with my friend Christine Stenner, we brought over a scent work trainer from Germany, Gudrun Gentilli, for a weekend clinic for 8 Lagotti and their owners. I also attend many educational events for the public and AKC judges. I have made several trips to Italy to attend the Lagotto Radunos where 200+ Lagotti were in attendance and to learn as much as I can about the breed. It is my goal as a breeder, owner, enthusiast, and while serving as director for the club to continue to protect the Lagotto here in the United States and promote it in line with the standard of the Club Italiano Lagotto.




---
My visit with Luciano Bernabei, with two important dogs to our breed. Here he is with Dex delle Farnie: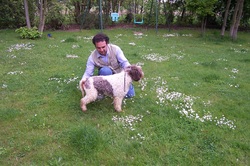 Here is Luciano with Diabolik delle Farnie: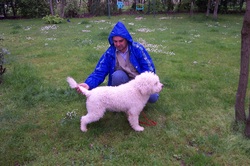 ---
Our Quest
My involvement with the Lagotti is not just a hobby, it is a passion. First and foremost though, my involvement with the Lagotti is to enjoy my dogs on a daily basis. Whether that is out in the field training in scent work, snuggling on the couch, or competing in the AKC conformation ring.
When I made the decision to breed my first Lagotto litter, I first set my goals. How can I make the breed better than what I already have? How can I match two dogs to hopefully result in puppies that first serve as healthy and confident members of someone's family, but can also be conformationally sound enough to step into the role of a truffle hunter that can work all day or shine in an AKC ring? My other goals are to create friendships with people that share my passion, talk to prospective puppy owners and create continuing relationships with my puppy families.

When breeding dogs, m

y goal is to have other owners and breeders relate my name with a successful breeding program.

F

or me, if I do all of the above, I am a successful breeder. People that are truly dedicated to a breed understand that you don't do it for the money, but that it is a commitment to your passion.
In order to meet my breeding goals, I need to consider three very important aspects when making the decision to breed a litter:Conformation - Health - Temperament I spent years researching and following this breed before I ever acquired my first one. In fact, I followed the Lagotto for over ten years before the timing was right for me to acquire my first dog. During this time I studied many, many lines for the above three qualities. I place a heavy emphasis on temperament and believe it deserves equal attention with conformation and health. I understand the Lagotto was developed as a working dog, but I believe the majority of them end up living in a home environment as family pets, even if they are still working dogs. I have met a few lagotto that were very fearful and shy and have read about more. When choosing my dogs with hopes of having them contribute to the breed in the future, I insist that my dogs be self-assured, inquisitive and outgoing. Our litters are always raised inside our home, in our family room, so from the day they are born they live with the sights and sounds of living in a home. Each litter and each puppy is raised with lots of love and individualized attention. We believe in Dr. Carmen Battaglia's Early Neurological Stimulation and use his techniques on each litter we have. Living on a farm, the puppies are also introduced to many different stimuli, on a one to one basis, to help them become confident and well-adjusted dogs. Starting at 3 1/2 weeks, each puppy is taken individually, away from their Mom and littermates to explore their new world and to develop their confidence of being on their own and not relying on the comfort of their Mom and littermates. In the beginning it is just for a few minutes at a time and we build on the amount of time as they grow and mature. We play loud music and cd's with different noises from thunder to city noises, we vacuum around them, we bang pots and pans in the kitchen, all of this to create an environment with a lot of various sounds and activities. All of this helps them to become confident adults.

Health

​To preserve the health of this breed is something that has become a priority for me. After my tenure as President of the Lagotto Romagnolo Club of America, AKC's Parent Club, I then went on to start the LAGOTTO ROMAGOLO FOUNDATION. I, along with some other breed enthusiasts have decided to put our efforts into the Foundation which serves strictly to preserve, protect, provide research and education on current health issues of our breed through scientific based research. For more information you can visit the Foundation here:
​
lagottofoundation.org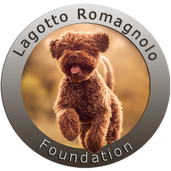 ---
We do not have kennels here, all of our dogs live inside of our home, sleep on our sofas and are members of our family.

​Please visit our "Puppies" page for important information on finding your new Lagotto puppy.